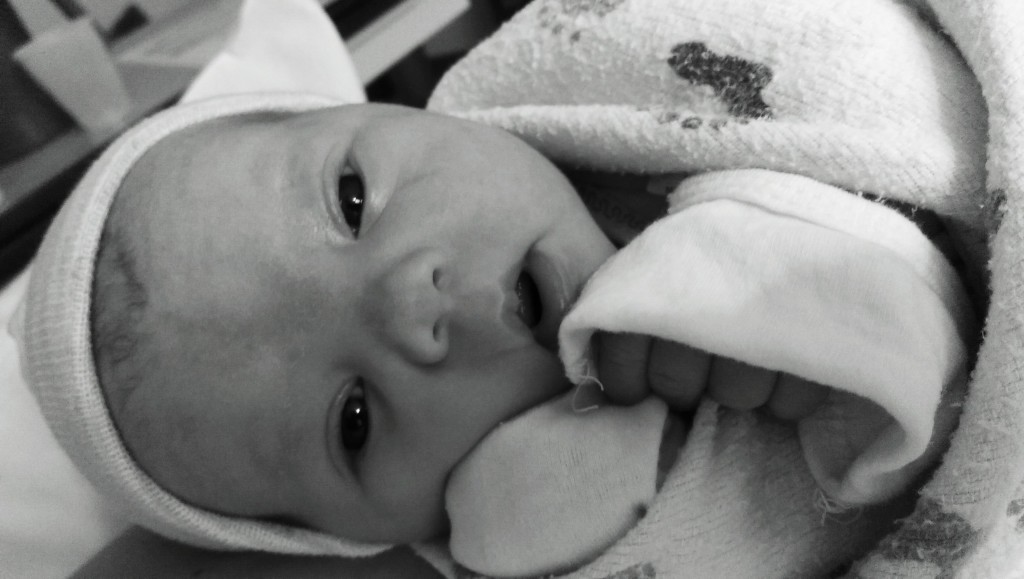 The last 3o+ days have been amazing! Our beautiful baby girl, "C" arrived mid-October.  She weighed in at 8 pounds and was 20 inches long.  Since then she's already grown 2 inches and gained a pound and a half.  We are all doing well and now just trying to adjust with 2 little ones in the house.
We were very blessed to have my mom here to stay with L when I went into labor.  It was a late-night event and it would have been cutting it close if we had to get a hold of a friend and wait for them to arrive.  After C's delivery Mom stayed to help out.  It was fantastic having her here and my dad was also able to come visit for a week before they both flew back to Nebraska today.  Just seeing my parents is always wonderful since it doesn't happen but once or twice a year, and never for this long of a period of time.  But in addition to getting to hang out, talk in person, hug, and seeing them play and make memories with the girls, they also blessed us with doing the housework, cooking, letting me nap while they entertained L, and many other activities too numerous to count.
We also got the opportunity to celebrate an early Thanksgiving and Christmas.  It's been years since we've been able to have the holidays together in person.  Mom cooked all of the traditional foods for a delicious dinner and we followed it up with fun and presents.  It was heartwarming to be in the same room and for them to be able to witness L's joy and hold C.
As if a new baby, family visiting, and holiday celebrations were not enough we also got the chance to go around the area to see the sights, from Basking Ridge to Princeton, IKEA to Carlo's Bakery, we had a ball.  As with L, one of C's first outings was to church the Sunday after she was born.  I can't say enough about how much our church family and friends mean to us.  They offer amazing support spiritually, emotionally, and physically through their thoughts, prayers, and meals.  I can't imagine this beautiful journey without my amazing husband, family, friends, and church.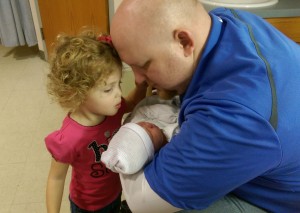 L (2 years old now) is doing great welcoming C into our house.  She tries to share her toys, always wants to lay with her on the playmat, and won't go to bed without giving her kisses.  It will be a transition as we adjust to a newborn, especially now that Grandma and Grandpa aren't here for 24/7 playing and cuddles.  But I know it will go great and I'm trying to cherish every moment.  I can't believe an entire month has already flown by.
I'm sorry this took so long to post.  The original title was "Oh, what a night".  I had high hopes of just doing a quick post with C's picture, letting you all know she'd arrived.  That quickly turned into "Oh, what a week".  Well…we all know how this ended up – "Oh, what a MONTH!"
Before I know it 2015 will be here.  We had our first snow last night and that just reinforced how far we already are into November.  Less than 2 weeks until Thanksgiving is just crazy!  Seeing the days fly by in a blur has made me realize yet again how precious these days are with the girls.  As always, I'll do my best to post updates, but I'd rather be having tea parties and holding my baby than wishing I would have when they are pulling out of the driveway to go to prom.
God is good and I feel blessed beyond anything I could have ever imagined.  I am humbled, thankful, and full of joy as we enter into this beautiful season!
You Might Also Like: