Growing up, whenever Mom asked me what I wanted her to make, my answer was always Acini de Pepe Salad.  It does take a little planning and makes a very large amount, so generally this side dish was reserved for holidays, carry-ins, and church picnics.  This recipe is a family favorite and is taken from the cookbook Pot Holders and Love Handles by Lynda Cabela (copyright 1990, Cookbooks by Morris Press, Kearney, NE 68848).  If you would like a copy of this lovely Nebraska cookbook I have found it available on Amazon and Ebay.
Acini de Pepe Salad
Ingredients: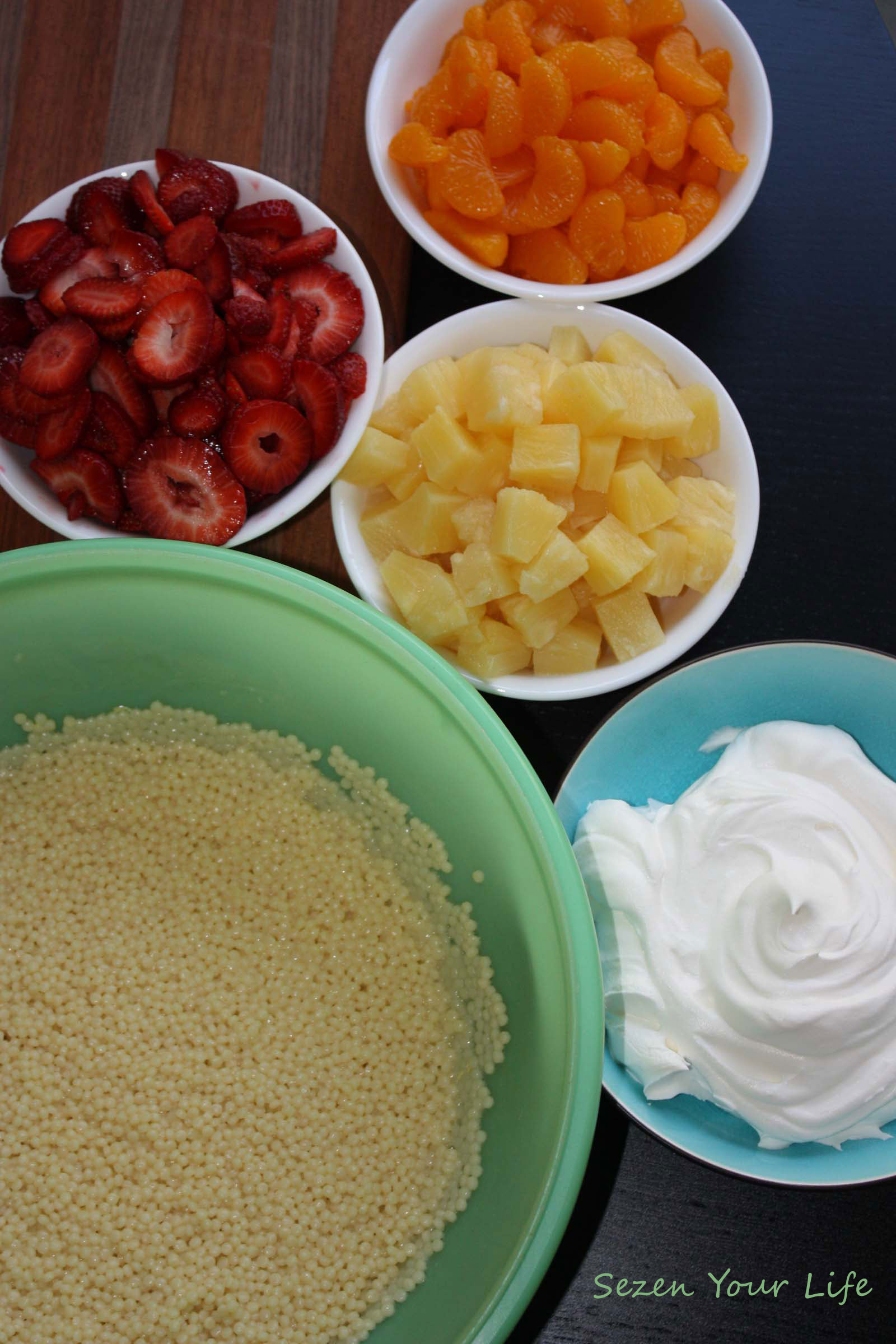 1/2 cup sugar
1 cup pineapple juice (reserved from drained can)
1 tablespoon flour
2 beaten egg yolks
1 tablespoon lemon juice
2 medium cans pineapple tidbits, drained (juice reserved)
2 medium cans Mandarin oranges, drained
1 carton (16oz) whipped topping
1/2 package of miniature marshmallows
Any additional fruit to taste (maraschino cherries, strawberries)
1 1/2 cups uncooked Acini de Pepe
Begin by mixing the sugar, pineapple juice, flour, egg yolks, and lemon juice in a sauce pan. Cook over low to medium heat until thick, stirring almost constantly.  This will be used as a glaze for the pasta.
Cook the Acini de Pepe in salted boiling water until tender, or as directed on the box.  Drain, rinse, and cool thoroughly.
Pour glaze over cooled pasta and stir to coat completely.
At this point I generally cover and refrigerate the pasta, letting it sit overnight if possible. It can be chilled and served immediately if needed, though.
When ready to serve, add drained pineapple, oranges, marshmallows, any additional fruit chosen, and whipped topping. Stir to completely combine.
I personally omit the miniature marshmallows and add in drained/sliced maraschino cherries and/or sliced fresh strawberries.  Just make sure to lay out the sliced cherries or strawberries to drain on a paper towel to remove extra juice before adding them.  Otherwise, they will bleed out and discolor the salad as it sits.
Refrigerate any leftovers to enjoy later.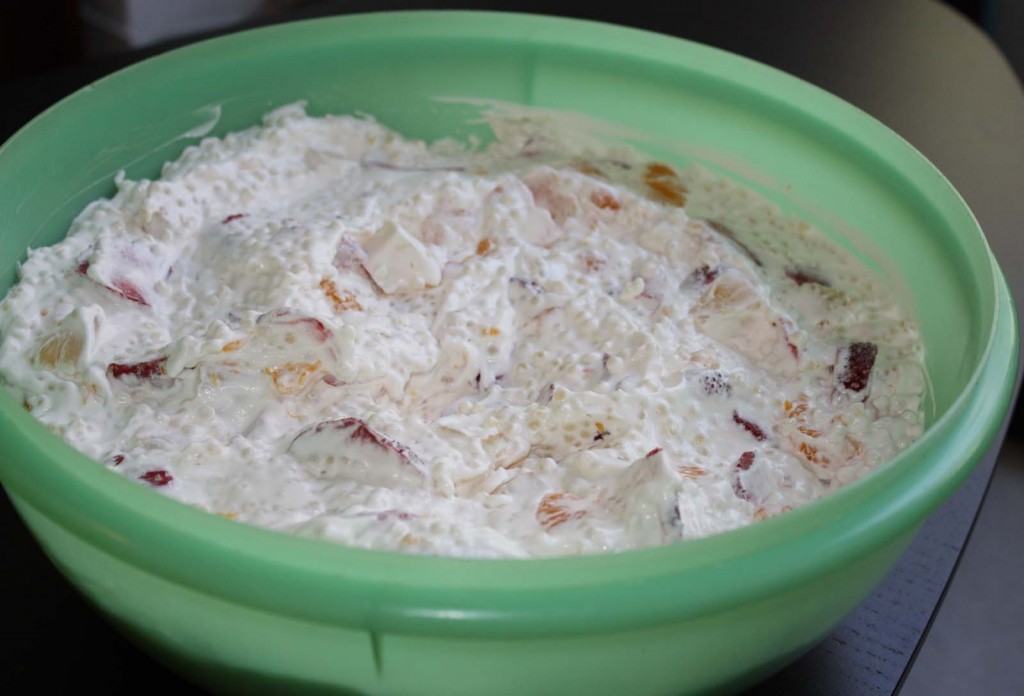 This salad is perfect for summertime cookouts, adding a cool and refreshing side that is tasty enough to almost be considered a dessert.  Get out your big serving spoons and dig in!
*Some people refer to this as a Frog Eye Salad.  Acini de Pepe is located in the pasta section of your grocery store near the spaghetti, usually on the upper shelves near the smaller boxes of specialty pastas.
If you are vegan, check out the great adaptation of this recipe at my friend Lisa's blog, Fresh. Simple. Vegan.
You Might Also Like: