As promised, I'm finally getting around to posting some extra pictures for a quick tutorial on the magnetic kids' fishing set.  If you missed the note on social media, one day L came up to me and said she wanted to go fishing. We were in no position to actually go fishing in the traditional sense; I haven't been fishing in years and we don't even own any poles or tackle. But I was excited for the possibility of a fun project we could do together, and have a game to help break up the days indoors.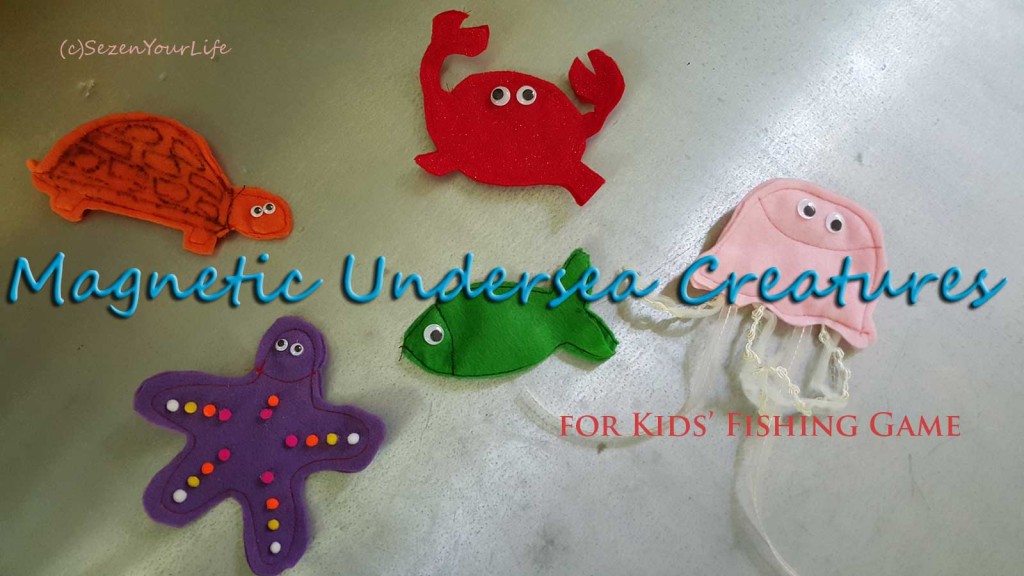 Thankfully, I'm at that place in my life where I have ample craft supplies on hand, and I can usually scrounge up enough stuff to at least get a basic project going.  (My husband may beg to differ that this is a good thing.)  But nonetheless that was the case with this.  I dug out my stock of felt left over from making the Children's Christmas Tree, grabbed some magnets I had stashed away, broke out the fabric sheers and sewing machine, and got to work.
I used my sewing machine, but this could easily be a no-sew project.  Just use a hot glue gun, or other fabric glue in place of the stitching.
I took a scrap of green felt, folded it in half, and used a pen to sketch out a basic fish shape.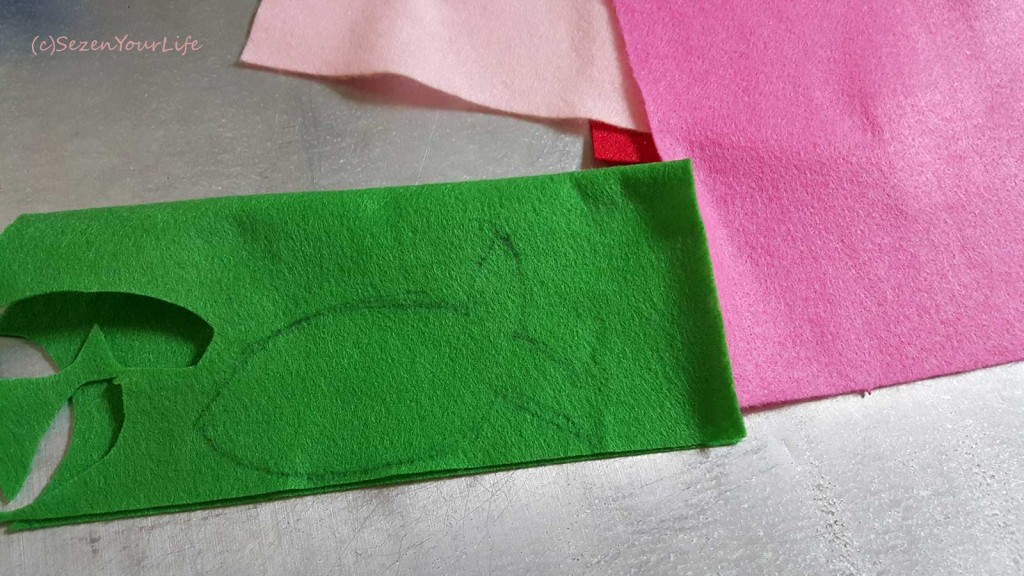 After cutting through both layers, I held the pieces together to stitch around the edge, leaving a bit open at the top to insert the magnet.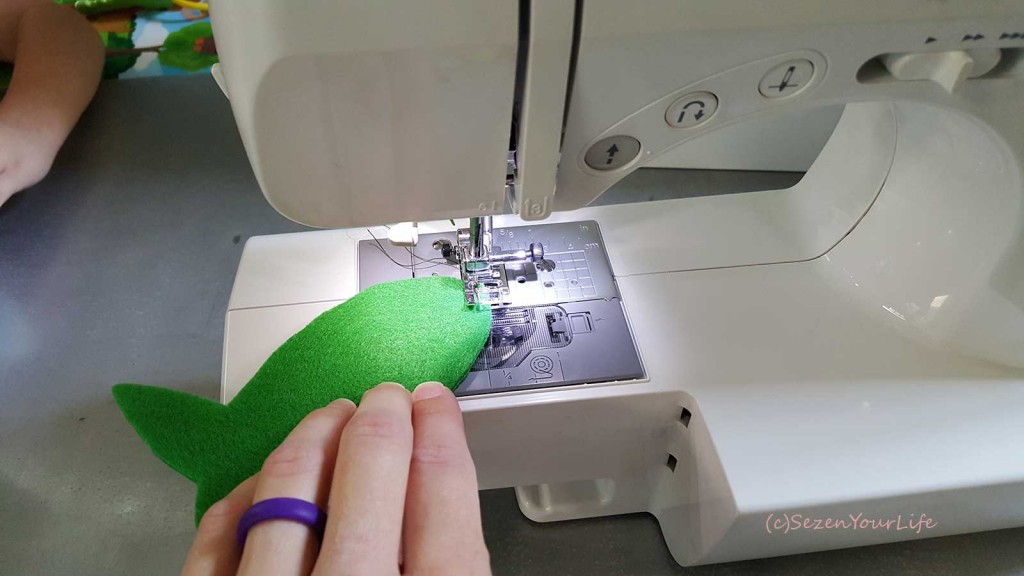 I slipped in the magnet near the head and finished stitching around the outside.  I didn't want the magnet just rolling around inside loose, so I sewed around it to keep it near the end.  This was twofold for me, it added an extra barrier to prevent the magnet from ever getting out of the fish, and it kept it in one spot to make it easier for L to "catch" the fish with her pole.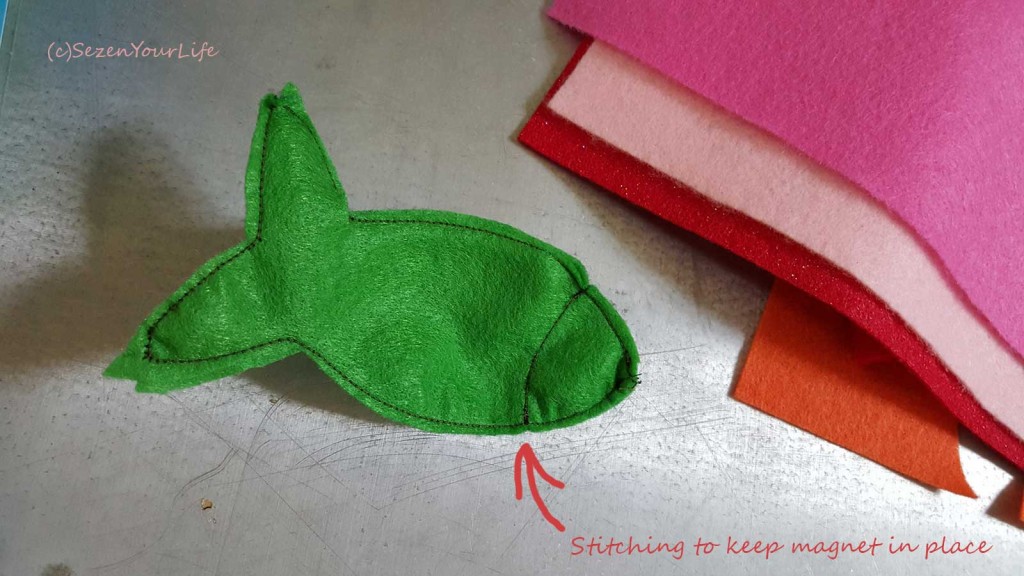 This one looks a little rough, I know.  I was having some tension issues with the machine, but you get the idea.
L and I decided it would be more fun to do different undersea creatures, rather than just plain old fish.  L came up with the creatures and colors, and I followed the same steps to make them.  I did start to pin the pieces just to keep them lined up and make it look a little neater.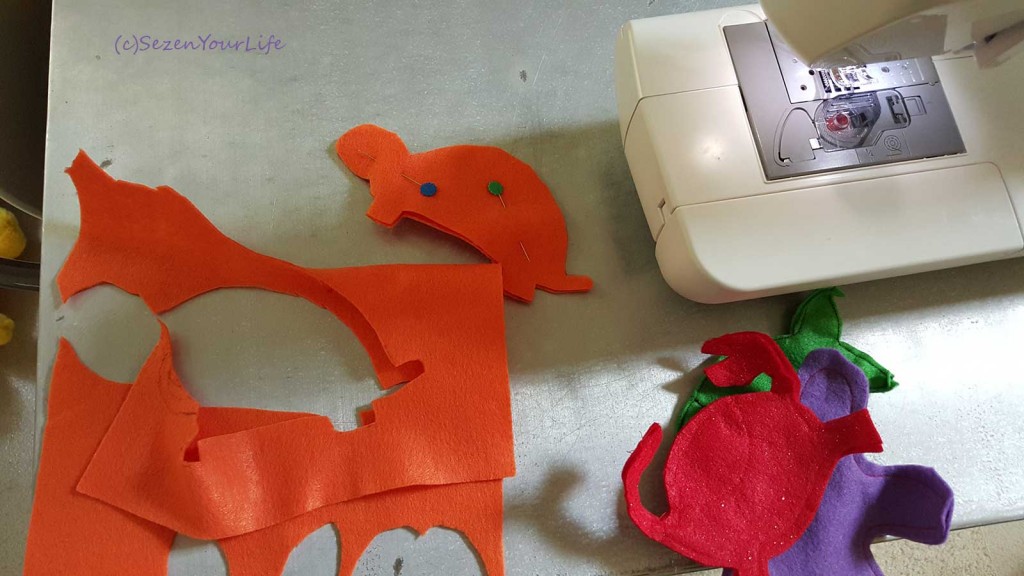 The jellyfish was really fun, it's my favorite.  Before I sewed the two sides together, I found some ribbons for the tentacles and placed them in middle.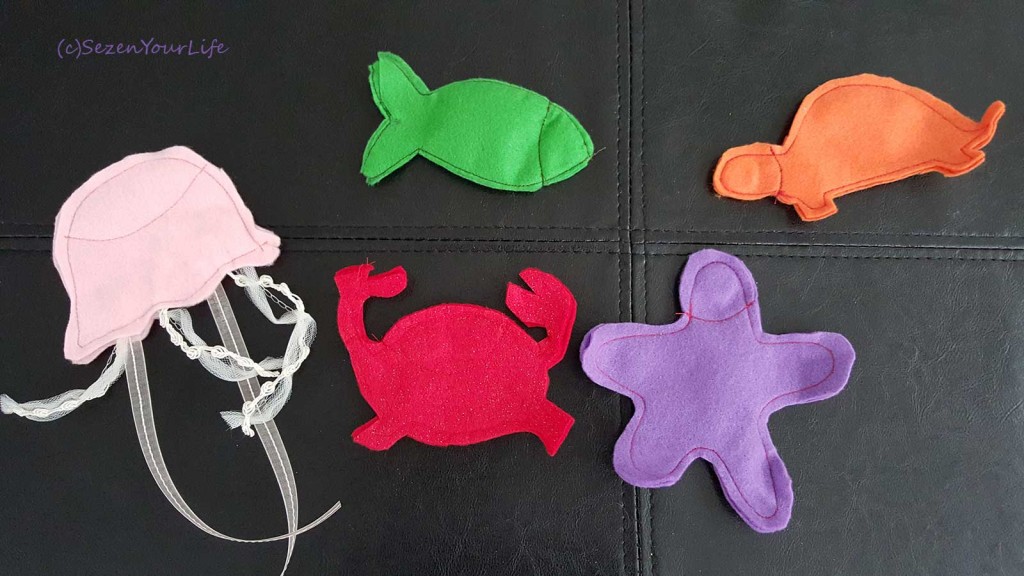 We could have easily been done at this point, but we like to embellish!  I used the hot glue gun to add googly eyes and pompoms.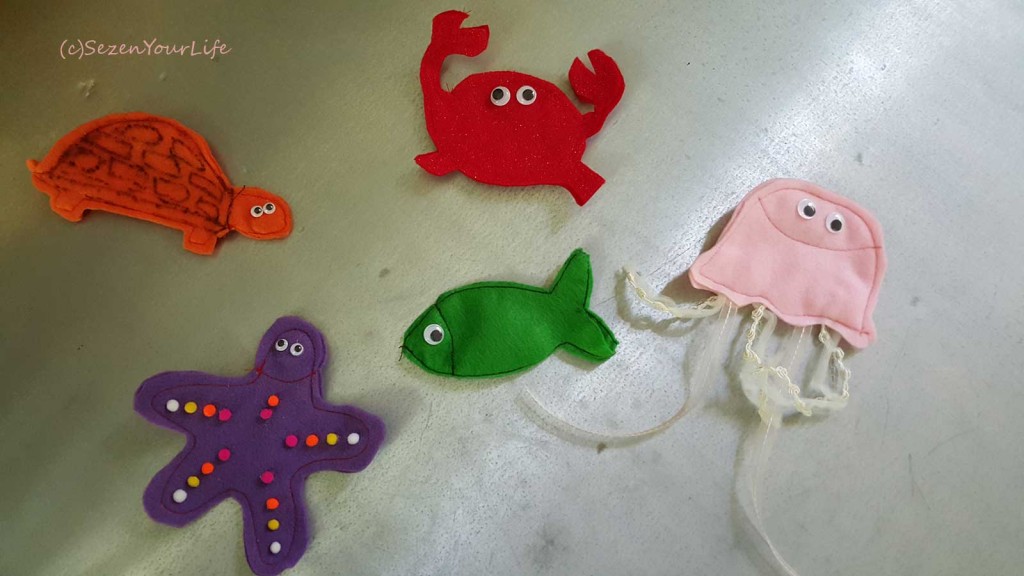 Every one, except the fish, has a little something extra.  It's hard to see in the pictures, but the crab is actually made from a sparkly felt.  I should have waited until I could get to the store for a better fabric paint or pen to decorate the turtle, but I got anxious and it turned out a little muddy.  L still loves them all anyway.
I had been waiting to do this post initially because I was trying to come up with a creative way to make a pole that has real working reeling action.  I have yet to do that due to time constraints.  L is fine with the pole she's been using.  It's just a plastic stick with a long string and a large paperclip attached to the end, super basic.  But to a 3-year-old it's perfect.  Looking on Pinterest, I found a few ideas for fishing poles including this one from Tidbits, in case you're feeling more ambitious than I am.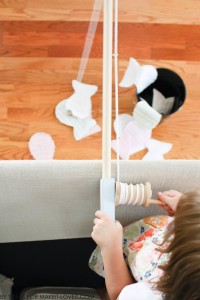 The magnetic undersea creatures were completed in a morning, and basically free (even if you don't have a craft stockpile – which you really should 🙂 – it would still be very inexpensive).  L had fun helping and still loves playing with it.  Sometimes she even just likes to use the undersea creatures on the refrigerator.  So all in all I'm considering that a win and a very successful, off-the-cuff, project!
You Might Also Like: