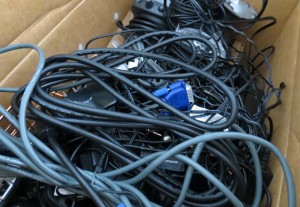 Does this look familiar, boxes and totes full of discarded and outdated electronic devices in a tangled mass of cords?  Over the years, we have gone through several computer towers, printers, DVD players, and sets of speakers.  Some have been upgraded, others replaced after extensive use.
In our last house, all of these unused items were thrown in the closet.  We had the mentality that they might come in handy later for parts, or we might need a backup in a pinch. With technology changing so quickly, it didn't take long before most of the stash was completely obsolete.  After sorting out the junk, we were left with a handful of devices we were keeping on hand, and the rest was a big pile of trash.
We had an exceptional amount of electrical cords in particular.  Often new components come with their own cables.  Most of these went largely unused in our house because my husband would replace them with better quality products and HDMI cords.  We had several bags, and I couldn't bare the thought of just throwing them away to clog up the landfills.  They were good cords and surely something could be done with them.
Much to my husband's surprise, after a full day back in my craft room I emerged with the basic structure of a basket, made entirely from his discarded cords.  I actually created this project a while back, before I had this blog.  So I'm sorry, but I did not document the steps and take photographs.  It was more of an artistic work in progress anyway.  Since I'd never done this before and had never heard of anyone else doing it, I was just winging it, hoping for the best.
After a few more hours and several cords later, I had most of the gaps filled in and a sturdy basket for holding magazines.
The only thing better than finishing a completely unique hand-made project, is creating it from unlikely materials.  I am surprised how well it holds its shape.  The cords are a great durable medium and they could easily be employed for outdoor projects too.  Most of the ones incorporated in this basket are pretty substantial, making it relatively heavy.  If you are thinking about weaving cords for clothing and accessories, definitely stick with the smaller ones (phone chargers, for example).
This basket took hundreds of cords.  One option for a similar look that would require less time and fewer pieces is to use a pre-made wire frame for a support structure and weave the cords around that.  This time of year you can find great deals in the garden section for hanging baskets.  They are the perfect base for creating one-of-a-kind bowls, vases, and even lamp shades.
What's your favorite upcycled project?  Do you have random materials or objects lying around that you don't want to throw away but aren't sure what to do with them?  I'd love to hear your ideas and see your creations.
You Might Also Like: