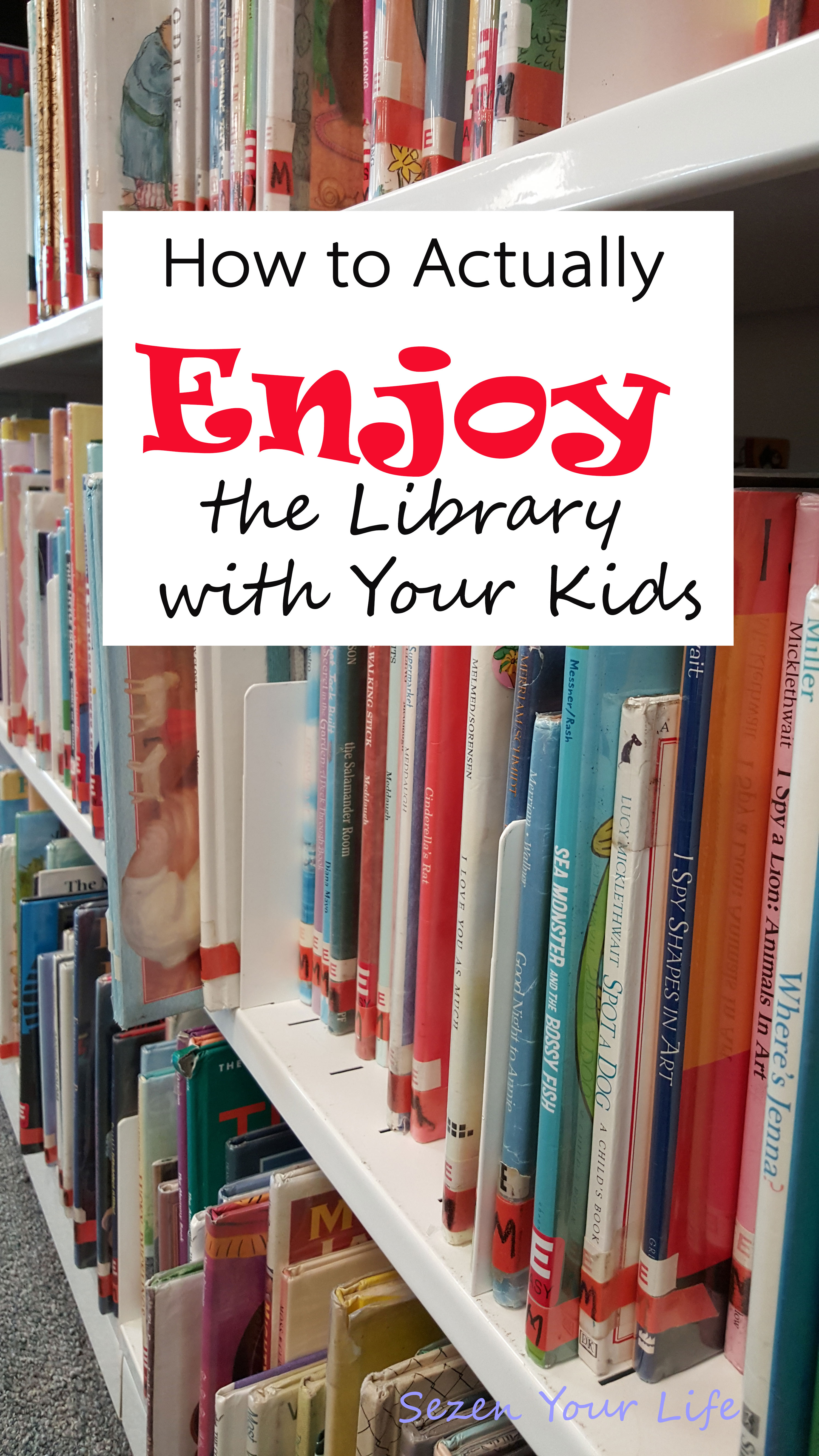 It saddens me to hear that there are many people who totally avoid taking their children to the library.  I'm not judging. I know life is busy and going anywhere with kids, especially a quiet place full of fragile items, can seem daunting or down right foolish.
Some people don't want to be responsible for books that they don't own, some are worried that their kids are too loud or that their kids won't sit still. Let me put your fears to rest, if you have a children's library close, use it.  Children's librarians are a special breed. They love books and they love kids – go figure.  And if you find a children's librarian that doesn't love both and merely glares over the top of his or her glasses judging your kids – well – just carry on. They have the problem, not you. The books are there to be read and enjoyed, thoroughly!
My girls love books and they love going to the library. As I mentioned in my post, Why I Don't Buy Books for My Kids,
Outside of the park (my kids love to run), the library is where they ask to go most often.  We have several nearby, chock-full of awesome books, toys, puppets, computers, artwork, fish tanks, and sometimes we can even sit in on story time.  I also love seeing the smile on our librarian's face when we show up. She's in her 70s and is wise. She is concerned her job and their beautiful building will someday be obsolete.  I pray that day never comes. I know as a mom of little ones it can be hard to get out, but we always have a great time when we go.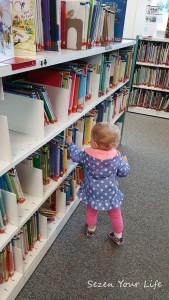 I had a friend once tell me her family never goes to the library. They don't want to checkout books because she's afraid the books will get misplaced or ruined.  I can completely understand that, however, I try to turn it around and use it as a learning opportunity for my kids to teach them how to take care of things.  We also have some set guidelines that make the library fun and less stressful for all of us, but especially for me as a mom.
Kids Will be Kids
The library is a great social learning environment. In a children's library, people know it's not going to be silent. It's the perfect opportunity to start teaching your kids how to use a quiet voice, walk slowly, and handle books with care. There will be times when your kid gets loud and tries to run, use it as a teaching moment and move on. If they continue to misbehave, like any situation, you may have to leave. If L gets all fired up and isn't listening, usually just telling her if she does it again we'll leave, rectifies the situation. So don't be worried about your kid being loud or not sitting still, I'm sure the librarians have seen it all. A certain amount of noise and movement is to be expected.
How We Handle the Book Situation
We have a specific library bag.  It's just a plain tote that we take with us every time to keep the books together and use to haul them out to the car.  We keep our library card in this tote as well, so I don't have to dig through my purse to find it when it's time to check out.
We check out the same number of books every time, 8. This gives L a limit of what she can get and then when it's time to return them, I just count them up and know we're good to go.
The books stay in the bag. Therefore, I don't have to worry about finding them when it's time to return the books. When we get home, the bag goes upstairs to our bedroom. In the corner we have a rocking chair where we sit and read together before bedtime. The girls have lots of other books in their room and in the living room that they can access at any time. But the library books stay together, in the bag, in our room (or at least in an area where the kids can't be alone with them and get too creative). L's actually very gentle with her stuff, but occasionally she acts her age and…well…things get destroyed. I don't want the one time she decides to use markers in a book to be a library book. If we do read the books downstairs or in L's bed, we just have a rule that they go back in the bag when we're done.
As soon as we get home from the library, I write on the calendar when the books are due.  Normally we go on the same day of the week due to our schedule, so that helps anyway. But a big calendar reminder is a huge help for me. Usually, before I even walk out of the door at the library I make sure to put the date in my phone with a 24 hour reminder.
Try to leave enough time for the kids to really enjoy it. Our library has so many other things besides books, honestly when we go the girls don't sit and read. Usually L doesn't even pick out books, I do that while they play with blocks, and trains, and explore the area. I want to instill in them a true joy of reading and learning and love for the library. If I have to return the books and know we won't have more than 10 minutes there, I don't even attempt to do that with the girls. I drive through, drop the books off, and we go back another day. It saves everyone a lot of heartache.
Benefits of the Library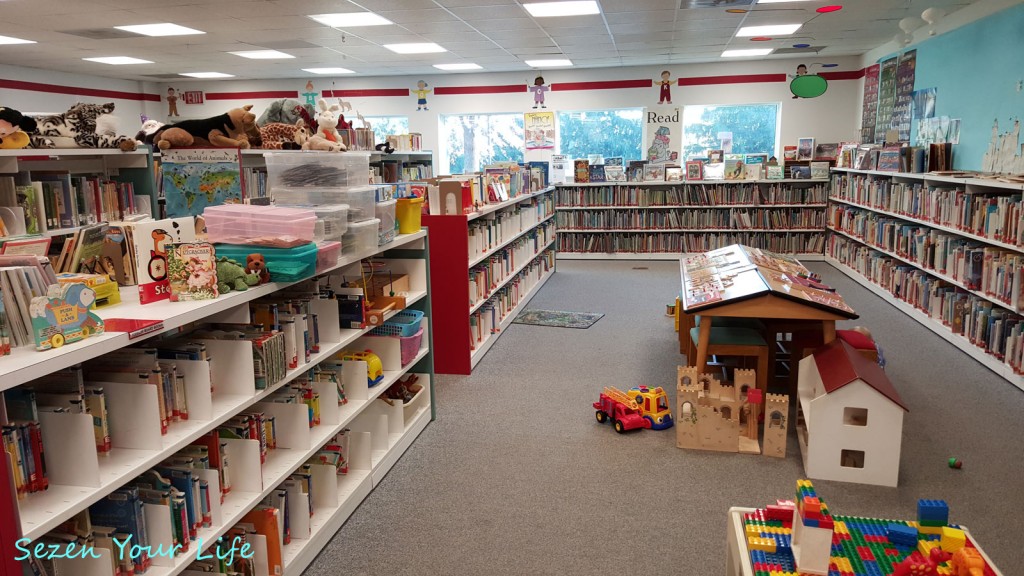 Checking out a book for free is a good way to see if the girls actually like a book before we put it on our wish list. (I no longer buy book, you can read more about that HERE.) There are several books I've grabbed off the shelves, thinking they'll be hits.  In actuality the girls just didn't like them. No issue, we read the books the one time, put them back in the bag, and returned them in a few weeks. Since you don't own them, checking out books can also help elevate the rut of being forced to read the same book… over…and over…and over…
If the thought of having library books in your home still freaks you out, you are allowed to visit the library and not check anything out. You can go and read a few books while you're there, or just play and try out a computer game. During inclimate weather, it can be nice just to have somewhere to go to get out of the house.
More than just books! Many libraries have movies, music, classes, puppets, puzzles, and even museum passes that they'll loan out.  There are so many fun activities I didn't even realize were happening at our library; they bring in musicians, they have a tumbling and music group for toddlers, they organize field trips (even bus rides into NYC to visit the museums!), movie nights, many local libraries have LEGO clubs. Ours has a community garden out back. And most of it's free or very inexpensive! Why wouldn't you go? I know life gets hectic, but I encourage you to at least try to check out the summer reading programs.
With a few guidelines to keep you organized and sane, the library can be one of your favorite places to visit with (or without) the kids.
Rather than thinking about the library as some outdated, musty, off-limits type building, see it as the flourishing center of life and education that it was built to be! 
You Might Also Like: