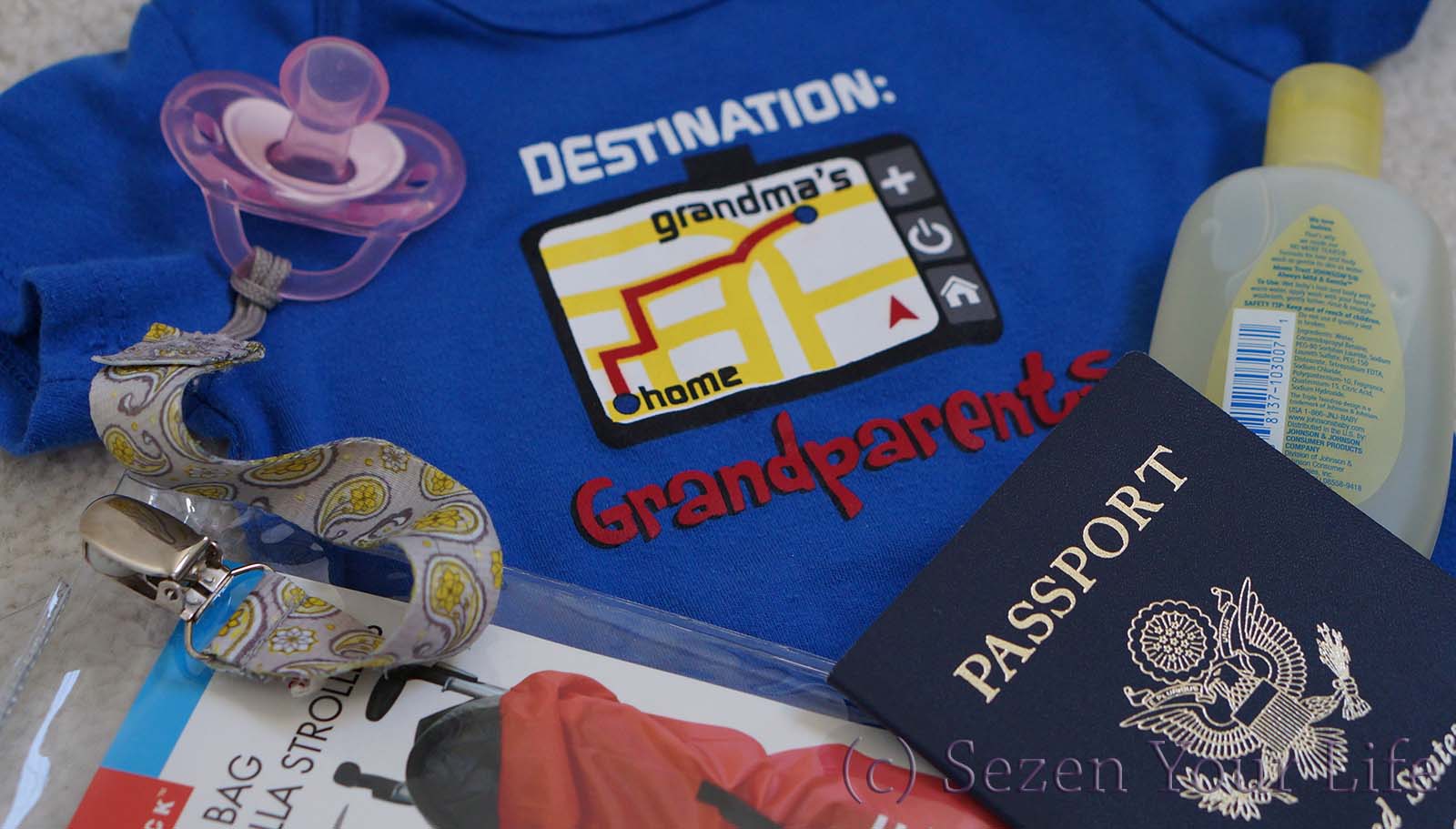 We did it! We successfully flew halfway across the country and back with a 7-month-old.  And we enjoyed ourselves during the process.  L did beautifully, and this trip gave us more confidence for traveling in the future.
I had been dreading the thought of flying with an infant since before she was even born.  We've all heard the horror stories, and most of us have been trapped in a confined space with an unhappy child much to our dismay.  I didn't want to be those parents.  But after lots of research, a good case of homesickness, and many prayers we got geared up to book the flights.
I'm going to do a few posts, walking you through our travel preparations and trip to share what we've learned, what worked, and what we'll do differently next time.  Let's start with the basics:
The very first thing I'm going to tell you is to relax and be flexible.  It will most likely not be half as bad as you have it made out in your brain to be.  L did so well she actually brought joy to our surrounding passengers with her bright smile and sunny disposition.  As I'm sure you've also learned by now, our kids respond to the way we react.  They are looking to us to gauge how to behave and how they should be feeling.  If we are happy and calm, they have a greater chance of following suit.  Once you have your mind set that you are going to enjoy yourself and it's going to be a fantastic trip, you can move on to the logistics.
If you are flying, try to book as early as possible to get the best rates.  I thought using comparative websites was the way to go, however, we discovered some airlines are not even part of the companies listed.  Visiting the airlines' sites directly provided much cheaper rates.  If your schedule allows make sure to check the dates surrounding your preferred departure and arrival days.  The difference between leaving on a Friday versus leaving on a Sunday could save you a substantial amount of money.
Also keep in mind layovers.  As an adult they can be annoying enough, and with a child they are probably not going to be a whole lot better.  It may be worth the extra bucks to go for the direct flight.  We actually experienced both.  On the trip there we had a 2-hour layover in Chicago, and returning we had a direct flight.  The layover itself wasn't bad, but it extended the day enough that by the time we boarded our next flight L was pretty ready to be done (as we all were).  If you do have to have a connecting flight, I would suggest having close to a 2-hour span between flights.  After you de-board, get any gate-checked items, run to the restroom, change diapers, possibly grab something to eat and drink, you want a minute to regroup at the gate and not be running through the airport trying to catch a plane.
Check your airline's requirements for identification, baggage allowance, extra fees, and check-in procedures.  In addition to our photo IDs, we had to have a copy of L's birth certificate.  You need to see if they require you to purchase an extra seat for your child, or if he/she can sit on your lap if you prefer.  Also, don't forget about the baby gear, can you gate-check car seats and strollers and if so is there an added charge?  We were very pleased with Southwest. For each passenger that purchases a ticket you get 2 checked bags, a carryon, a small personal item, and we could check L's stroller and car seat at the gate for free.  Since my husband and I both had seats of course, that doubled our allowance.  That is a lot of luggage included in the price of our tickets.
Review TSA's website to make getting through security easier.  You are allowed to bring along liquids, such as breast milk, in quantities greater than 3 ounces; they will just need to be presented for inspection.
Try to set other bookings you may need at this time, as well.  Hotels, car rentals, tours, long term parking, and transportation to and from the airport are all things you'll be happy to have out of the way before you arrive.  Check travel websites and your airline for package deals and promotion codes.
A few final things to consider when starting to plan a trip is making sure everything will be safe and in order while you are away.  Have your mail and newspaper held till you return unless a neighbor can collect them.  Make arrangements earlier than later for pet care, having your plants watered, and for someone to stop by and check on the house if possible.  Ensure your bills are paid and nothing will come due during your absence.  It's also a good idea to take a moment and notify your credit card company that you will be out of the area and to expect those charges.  You may also want to check with your pediatrician depending on your child's age and health to be aware of any special concerns.  This is especially true when traveling internationally.  Double check you'll have enough of any prescription medications and the proper way to transport them through security in your carryon.  And lastly, I recommend trying to clean the house before you go.  I know, this sounds kind of lame and over the top, but if you can swing it, it's well worth the effort when you walk in the door after a long time away and you can just relax and enjoy your home.
Getting these things in order is the first step to having a wonderful vacation and enjoying your time away.  In the next post we'll look at what to pack, how to travel light, and the best attire for the trip.
You might also like: