Looking for an easy dessert that would incorporate my husband's request for "something with coconut" I decided to see what it would take to make the well-known Magic Cookie Bars. We have enjoyed these mainly as a sweet snack after a light sandwich at local delis, and it wasn't until I looked up the recipe that I realized how simple they are to make at home. When searching online most of the recipes default to the Eagle Brand site for their tried and true method.  Since it has such great reviews and has been used by families for years now, I figured sticking with the classic was the best way to go.  Here is what I did with the recipe and the original can be found at Eagle Brand's site.
Ingredients: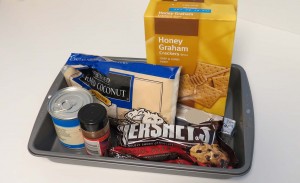 ½ cup melted butter or margarine
1 ½ cups graham cracker crumbs
¼ teaspoon of cinnamon
14oz can of sweetened condensed milk
1 cup semi-sweet chocolate chips
1 cup dark chocolate chips
1 ½ cups flaked coconut
Directions:
Preheat oven to 350 degrees (325 for a glass dish) and grease a 9×13 pan to prep for baking
Crush graham crackers in zipper-sealed bag using a rolling pin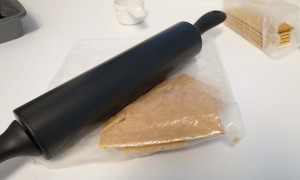 Combine graham cracker crumbs and cinnamon with melted butter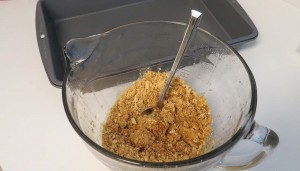 Press mixture into bottom of greased 9×13 baking pan
Pour sweetened condensed milk evenly over graham cracker crumb layer, making sure to coat entire area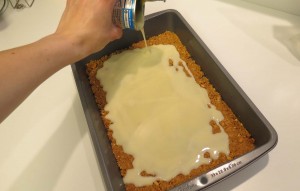 Sprinkle on chocolate chips and coconut, press down firmly with a fork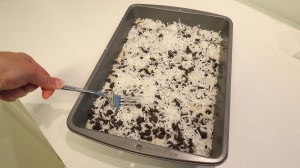 Bake for 25 minutes or until lightly browned, cool, and cut into bars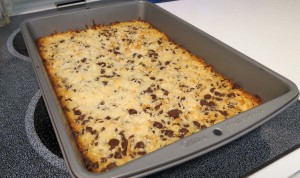 Store covered at room temperature
I only ended up needing to bake my bars for 22 minutes in the dark, non-stick pan.  The main variations between the original recipe and this one are that I added cinnamon to the crumb mixture; it's also a nice to add some crushed vanilla wafers to make up the 1 1/2 cups with the graham cracker crumbs for a little extra flavor.  To satisfy my husband's craving, I also upped the coconut from 1 1/3 cups to a little over 1 1/2 cups.  I omitted the nuts altogether, and substituted 1 cup of dark chocolate chips rather than having 2 cups of just the semi-sweet.  You could also incorporate butterscotch, white chocolate, or almost any other type of baking chips to give this favorite your own flare.  I love this recipe because it is simple to prepare and is ready in under 30 minutes.  Pour yourself a glass of milk and enjoy some Magic Cookie Bars for your next dessert.
What special ingredients do you add to your Magic Bars?  I think next time I will throw in some butterscotch chips or do a caramel drizzle to up the ante a little bit.
You Might Also Like: