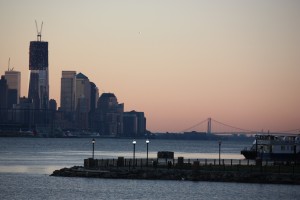 Highlights from November and December 2011 – Photo Album
Christmas just ended, we had a wonderful weekend, and we are finally getting back into some semblance of a normal routine.  Thanks for bearing with me during the long hiatus.  Many things have been changing in our lives these past few months, with the most significant being a move to the East Coast.
Only a few days after my last post we found out that my husband's job would be taking us from Iowa to New Jersey.  Needless to say this has been a substantial change physically, emotionally, and spiritually.  If you have been honored with the crazy experience of relocating everything you own and trying to find a new place to take up residence somewhere you've never even visited before, you know all too well that it can be quite the adventure.  But we thrive on adventure, that's what we tell ourselves anyway to help stay sane during it all.
The last few months have been filed with lots of hard work but also lots of fun.  We got everything moved and settled before Thanksgiving, so that day I took my first trip into New York City.  We decided to brave millions of people to see the Macy's Thanksgiving Day Parade in person.  One thing that all of our moving has taught us is that if you want to do something, there truly is no time like the present.  We know that we may never have the same chance at these opportunities again.   The parade was fantastic, the weather wasn't too cold, and the streets were alive with joy and excitement.  It is an even that I can now cross off my bucket list and would suggest everyone attends once in their life if possible.
New Jersey is treating us well.  We love the area where we live, a nice community that backs up to a natural green space, yet only an hour to NYC.  Since the parade, we have made a few additional trips back to the city, and I have attached a photo album link at the top of this post. To view the photos, just click on the text, "Highlights from November and December 2011."
With the New Year fast approaching, I have several resolutions I hope to stick to including posting on a regular basis.  The blog always seems to be at the forefront of my mind, and I have numerous things I am working on currently to get polished and posted.  All of the social media links on the site should be functioning as well as the orange RSS subscribe button at the top of every page.  Clicking on the orange RSS button will give you the option to subscribe using your choice of reader, or you can sign up to have posts sent directly to your email. Don't forget to follow Sezen Your Life on Twitter, "like" the Facebook page, and/or add it to your Google+ circles to stay in touch and see all of the great information to come.  If you have any questions or problems please let me know.
There will be many posts to follow that detail some of the experiences and nuances we have encountered.  I will also be posting several projects that I enjoyed doing to make the new house a home, but for now I am just extremely thankful to be back online.   2012 is going to be a phenomenal year!