Following up from the previous post, comparing hard-boiled to baked eggs, today we are looking at the final details for creating delicious deviled eggs.  When I was little I referred to them as "angel eggs."  I didn't like the word "deviled" and couldn't comprehend how something so wonderful could have such a horrid name.  Generating joy and laughter from amused family members, the phrase has stuck.  It's hard to believe, but Easter is just a few days away now, and we need to start thinking about the menu.  Whatever the name, deviled (or angel) eggs are an essential appetizer for this springtime celebration.
Slicing, Rather Than Peeling, Eggs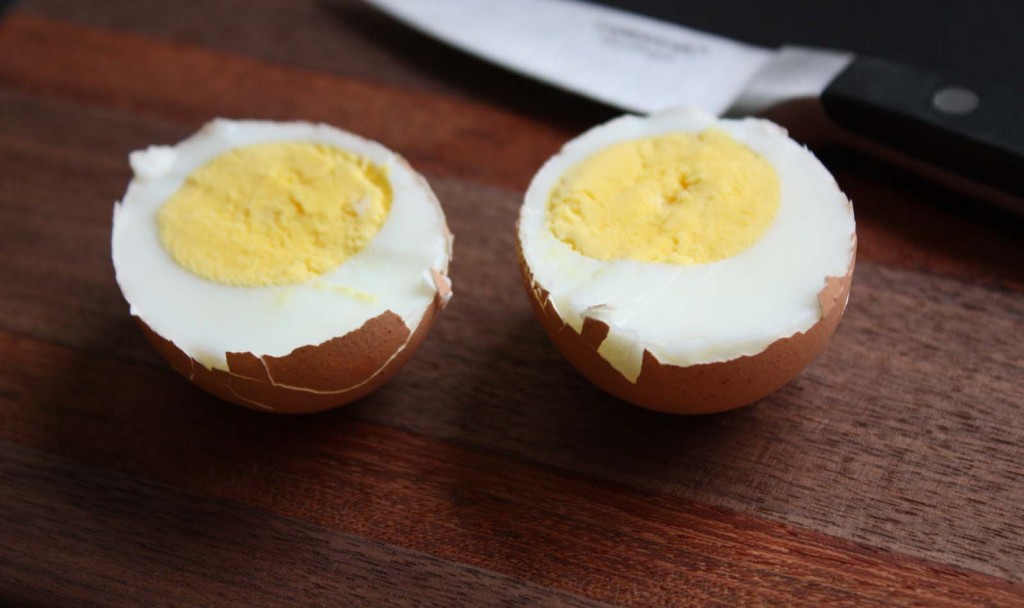 Of course the first step is to get the eggs boiled (or baked) and ready for slicing.  Always looking for new ways to improve my cooking and save time, an article on NoBiggie.net caught my attention: Never Peel an Egg Again!.  The writer suggests simply cutting through the entire egg, shell and all, after it's cooked.  Then scooping out the egg with a spoon and discarding the 2 halves of the shell.  No more fussy cracking and peeling, it sounded like a great idea to me.
I tried the technique on a few of the eggs I had baked and a few I had boiled to see if there was any difference.  Both produced the same results, which I have to say were slightly disappointing.  I had pretty high hopes for this one, but the outcome was less than desirable.  It was surprisingly easy to slice through the eggs, but impossible to get a smooth cut.  It left the edges choppy and ragged looking; and the worst part was that it scattered small pieces of shell into the middle of the eggs.  I had to pick out the bits from the yolks, then remove the yolks and rinse off the whites.
Neither was removing the halves from their shells as easy as one would hope.  I found it very difficult to get the spoon in under the skin without tearing the whites of the egg.  In the long run, this ended up being more work than simply peeling them the traditional way.  If you are going for speed, and appearance means nothing, or you are going to chop them up for a salad and can keep the shell pieces to a minimum, this might be a good option at that time.  For today's deviled eggs, however, I would stick to peeling the way Mom taught us.
Adding the Mix
I ended up slicing about half of the eggs and peeled the remainder.  Now, I was ready for the filling.  Since this has been a time for trying new methods, I wanted to test using a plastic bag with a zipper seal to mix and then pipe the ingredients.  Sites such as About.com recommend for quick and easy clean up to place the yolks in a zipper-sealed bag.  Break them up and add remaining ingredients, mixing all within the bag itself to eliminate the need for separate containers and utensils.  Once all is combined, you can snip off one corner and use the bag to squeeze the mix into the eggs.
This technique was definitely easier when it came to cleaning.  The down side for me was that our family recipe doesn't include exact measurements for the ingredients.  It was difficult to get the right balance added to the bag while trying to mix it around.  The consistency ended up being a little off, too.  The mix was not as smooth as when I stir the ingredients in a bowl with a fork to mash up all the chunks of yolk.  I prefer the extra special finished look I get when using a pastry bag and star tip, as well.  I know that's a little overkill, but generally when I make deviled eggs they are to share with a group, and the tip for piping adds that extra presentation flare.  It wasn't perfect, but they still tasted great and since these were just for us it worked out pretty well.
Sacred Ingredients

Out of all the recipes I've seen, deviled eggs seem to be one that has the most variations.  Every family has their own way of doing it, so it can be hard to find common ground.   As mentioned before, even the ingredients my family uses don't rely on specific amounts and the recipe is completely unstructured allowing you to add whatever intrigues you based on the taste you want that day.  We've tried everything from cumin to chili powder, but here is what we use for the basic building blocks:
Egg Yolks
Miracle Whip
Sweet (Bread and Butter) Pickle Juice
Yellow Mustard
Milk
Sugar
Optional: dill and celery salt
Paprika on top for flavor and garnish
Try out your family recipes this weekend, but don't be afraid of new techniques and dividing up the batch to experiment with some different spices.  Add some extraordinary to your Easter and be prepared to have some angelic eggs.  Be sure to let me know how they turn out and what I should try on my next batch.
You Might Also Like: